Perhaps you have never heard of the Charente? Why come here for your holiday?  Jan 18 2007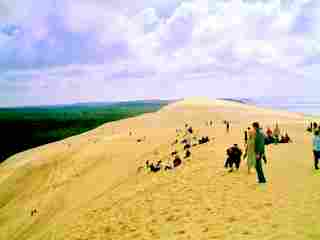 Perhaps you have never heard of the Charente? Why come here for your holiday?
The Charente lies one hour north east of Bordeaux and an hour inland from the coast. It is an undulating department with woods and vineyards and sunflowers, scattered about with small lakes and picturesque villages often dating back to medieval times. Thirteenth century churches and chateaux are in abundance and provide fascinating viewing.
Most Charente grapes are grown for Cognac or Pineau( a delicious mix of eau de vie and grape juice drunk as an aperitif,) but the fine wines of Bordeaux and St. Emilion are grown within driving distance of its borders. A trip to a distillery or vineyard is an interesting excursion, usually with plenty to taste in the process!
For relaxation many of the lakes have beaches. Picnic tables nestle under shady trees. There are golden sands for the children to play on and clear, clean waters for swimming often patrolled by lifeguards to ensure your families safety. There are way marked walks and cycle tracks for the energetic though these pursuits are best followed on the warm days of late spring or early autumn. Summer will be hot but after lazy days by the pool, there are plenty of night markets and street concerts. There is a highly renowned 'blues festival' in Cognac during the last weekend of July each year. Cognac also offers one of the finest golf courseswithin the department where many of the holes are sponsored by the famous cognac houses.
There are many restaurants to suit all tastes and budgets. There are several gourmet, star-rated establishments but also many homely cafes with daily changing 3 or 4 course menus and house wine thrown in, all for under ten pounds a head. And why particularly Brossac? Brossac Situated at the most southerly point of the Charente is an ideal location with the borders of the Gironde, Dordogne and Charente-Maritime within 10 minuets drive. Brossac A charming village, built close to a leisure lake, it offers all amenities. Bakers, Butcher, Supermarket, Bank, Holiday accommodation, Post office, Restaurants, Tennis, Swimming, Fishing....you will find them all here. There are night entertainments in summer and Chalais with its enormous weekly market is just ten minutes away. It is 45 minutes to Cognac and the distilleries or a 30 minute drive to Aubeterre with its subterranean church. A must see! There is kayaking and river sports on both the Drone and Dordogne rivers. If you want to visit a large, historic town then you are spoiled for choice... Angouleme, Libourne, Saintes, Perigeux, all driving distance and with history dating back to the Romans! If you fancy a day by the sea you can choose quiet coves, bustling marinas or natural phenomenons like the dune du pyla. Freshly caught fish can be found on restaurant menus everywhere.