Spend your best Hawaii vacation on Big Islandís Kohala Coast††May 14 2007



It's not the 'Call of the Wild' but it's the 'Call of Hawaii', which has finally caught up with you. For one reason or another, you decided to spend your first Hawaii vacation on the Big Island. Maybe you heard that this is the only Hawaii Island where you can spend a day on sunny sandy white beaches and go skiing or sledding on top of snow-covered Mauna Kea later in the day or where one can experience the fireworks of a live volcano at Hawaii Volcanoes National Park? Yes, this is true. Hawaii Big Island is not only the biggest of the Hawaiian Islands but it is the island of superlatives with adventures beyond the ordinary.

Kohala Coast - your next Hawaii vacation destination

Well, here you are planning your first Hawaii vacation on the Big Island and you just don't know where to stay on this literally 'big' island despite of all the Big Island guidebooks you read and the many Big Island websites you cruised. The purpose of this article is introduce you to the unique beauty of the Kohala Coast and make you fall in love with this beautiful coast and its wonderful people during your Hawaii vacation, just as many visitors did before. Some even became residents as we did. Many more will follow in the years to come.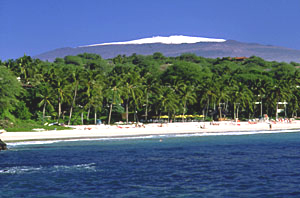 Does the sun always shine on the Kohala Coast?

What are your associations with the word 'Hawaii'? With me it was white sandy beaches, swaying palm trees, beautiful weather all year round and of course, the 'obligatory' hula dancer! The typical image or cliché of Hawaii! Believe it or not, the Kohala Coast on the Big Island has it all. Most first time visitors to the Hawaiian Islands are not aware that climate and weather can vary on each island tremendously depending on location (east or west) and elevation. Located on the dry west coast of the Big Island, north of the Kona Coast, the Kohala Coast provides the most stable weather throughout the year thus guarantying the first major component for your Hawaii vacation…sunshine! Well, now you could say why not stay in Kona, as you heard from friends whose cruise ship landed there that it's beautiful and fun. Admittedly, it is but…it's a tourist town, traffic in and out of town gets quite congested, beaches are smaller and more crowded and sometimes the 'vog' from the volcano can be bothersome, especially during hot summer months.

Where to stay on the Kohala Coast?

The price conscious vacationer can find affordable Kohala Coast Vacation Rentals, vacation condos and luxury Kohala Coast Vacation Homes at different Kohala Coast locations like Waikoloa Village, Kawaihae, Kohala Ranch, Kohala Estate or Waimea. The only non-resort but ocean front location is Puako with many different ocean access spots. Puako has recently become one of the most desired areas on the Kohala Coast. See our Kohala Coast map for Kohala Coast resorts and hotels. Kohala Coast vacation rentals combine many of the amenities of a Kohala Coast hotel with the comfort and character of a beautiful Kohala Coast home to make your Hawaii vacation experience memorable and affordable. Rates of Big Island accommodations vary depending on location and amenities.

What to do on the Kohala Coast?

There are no limits to your Kohala Coast activities . Within short driving distances of your vacation home or hotel on the Kohala Coast, you can play golf at 9 championship courses, play tennis, go horseback riding, take a hike into spectacular valleys, explore the Pacific waters snorkeling & meeting tropical fish, rays, dolphins and turtles, go deep sea fishing or scuba diving or go boogie boarding…the Kohala Coast has something for everybody!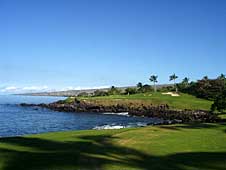 So, what do you think of the Kohala Coast? Please, come and see for yourself! Last but not least, don't get taken by surprise when landing at Kona International Airport in the middle of barren moonscape lava fields. It does not seem to get any better when driving Highway 19 north to your Kohala Coast destination. We assure you palm trees, white sand beaches, blue green waves of the Pacific, hula dancers and Mai Tai are awaiting you. Welcome to the Kohala Coast of the Big Island!

Written by Pua, one of Kohala Coast Vacation Guide editors

p.s. However, most of the regular Hawaii travelers have their own special Hawaiian island they prefer as their tropical getaway. Lots of you love Kauai, the garden island, as it is lush and green, Maui attracts with its surfing beaches and Oahu's Waikiki Beach Hotels did not lose any of their tourist attraction to Hawaii travelers from around the world, especially from Japan. So, what Hawaiian island is your favorite and why?