Welcome! Here you can find useful travel information about Kenya and book a hotel. To get accommodation in your destination and to find more travel information browse the cities list.

Kenya : Useful information about country

Accommodation

THE HOTEL ACCOMMODATION IN KENYA HAS BEEN CLASSIFIED
INTO THE FOLLOWING:-
TOWN HOTELS, VACATION HOTELS, LODGES AND TENTED CAMPS.

HOTELS AND LODGES ARE CLASSIFIED FROM ONE TO FIVE STAR
RATING.

TENTED CAMPS ARE CLASSIFIED INTO A AND B.
ACCOMMODATION COMPRISES OF LARGE SAFARI TENTS WITH A PRIVATE
SHOWER AND TOILET FACILITIES BEHIND EACH TENT.

IN THE CAPITAL NAIROBI THERE ARE A VARIETY OF HOTELS RANGING
FROM 5 TO 2 STAR. MANY OF THE LARGE INTERNATIONAL CHAINS ARE
REPRESENTED.

HOTELS EXIST ALSO AT THE FOLLOWING:-
NORO MORU, KERICHO, KISUMU, HOMA BAY, MTITO ANDEI, MOMBASA,
LIKONI, NAIVASHA, NYERI DIANI, KAKAMEGA, ELDORET, ISIOLO,
LAKE TURKANA, SHIMONI, BAMBURI, SHANZU, KIKAMBALA, WATAMU,
MALINDI, LAMU AND NYALI.

THE NATIONAL PARKS ACCOMMODATION:
---------------------------------
ABERDARE NATIONAL PARK THERE ARE SEVERAL HOTELS.
AMBOSELI NATIONAL PARK THERE ARE 3 LODGES.
MERU NATIONAL PARK THERE IS 1 LODGE.
LAKE BOGORIA NATIONAL PARK THERE IS A CAMP AND CLUB.
MARALAL GAME SANCTURAY THERE IS 1 SAFARI LODGE.
MARSABIT THERE IS A LODGE.
MASAI MARA NATIONAL PARK THERE IS A CAMP AND 3 LODGES.
LAKE NAKURU NATIONAL PARK THERE ARE 2 LODGES.
MOUNT ELGON NATIONAL PARK THERE IS A LODGE.
MOUNT KENYA THERE IS A MOUNTAIN LODGE.
SAMBURA/SHABA BUFFALO SPRINGS NATIONAL RESERVES THERE
ARE THREE LODGES.
TSAVO WEST NATIONAL PARK THERE ARE FOUR SAFARI LODGES.
TSAVO EAST THERE IS ONE SAFARI LODGE.

CAMPING
-------
CAMPSITES ARE AVAILABLE IN ALL THE RESERVES AND PARKS
AS WELL AS IN NAIROBI AND AT THE COAST. SOME OF THE
SITES ARE AS FOLLOWS:-

ABERDARE NATIONAL PARK/NYANDARUA MOUNTAINS
THERE ARE SITES WITHOUT FACILITIES AT MAGURA, GACHAGE, MWATHE,
KIGURU, CHANIA, HONI AND WANDARI.

AMBOSELI NATIONAL PARK
THERE ARE SEVERAL SITES NOT FAR FROM AMBOSELI LODGE.

LAKE NAKURU NATIONAL PARK
SITES ARE AVAILABLE AT NJORO RIVER MAGADI AND MAKALIA.

MASAI MARA GAME RESERVE
SEVERAL SITES ARE AVAILABLE. RESERVATIONS MUST BE MADE
THROUGH THE GAME DEPARTMENT NEAR THE NATIONAL MUSEUM IN
NAIROBI.

MERU NATIONAL PARK
SEVERAL SITES AVAILABLE AT BISANDI, KAMPI YA NYATI,
KANJOO, KINANI, MUGUNGA AND ROJEWERO.

MOUNT ELGON NATIONAL PARK
APPLY AT THE ENTRANCE FOR ONE OF THE SITES. THE SITES
ARE AT RONGAI, ENDEBESS, KASAWAI, SAITO DAM AND KIPTOGOT.

MOUNT KENYA NATIONAL PARK
CAMPING IS PERMITTED AT WILL ON THE MOUNTAIN ITSELF. THERE
ARE ALSO SEVERAL MOUNTAIN HUTS. THESE MUST BE RESERVED WITH
NARO MORU RIVER LODGE,
PO BOX 18
NARO MORU

SAMBURU AND BUFFALO SPRINGS GAME RESERVE
SEVERAL SITES ALONG CHAMPAGNE RIDGE - THERE ARE NO FACILITIES.
FEES MUST BE PAID AT THE RESERVE ENTRANCE.

SHIMBA HILLS NATIONAL PARK
THERE ARE TWO SITES AND SOME UNFURNISHED COTTAGES.

TSAVO NATIONAL PARK EAST
SITES NEAR VOI ENTRANCE AND ARUBA SELF SERVICE LODGE.

TSAVO NATIONAL PARK WEST
SITES AT TSAVO RIVER GATE, MTITO ANDEI GATE WITH FACILITIES.
ALSO CHYULU GATE WHERE THERE ARE THATCHED TENT SHELTERS.

NAIVASHA
SITES AT THE MARINA, THE SAFARILAND CLUB ALL FACILITIES.

NARO MORU
THIS IS THE USUAL BASE FOR CLIMBING AND WALKING ON MOUNT
KENYA.
THERE IS A LARGE CAMPING AREA WITH ALL FACILITIES.

THE KENYA COAST CAMPING SITES
-----------------------------

MALINDI - NORTH COAST. SILVERSANDS ALL FACILITIES.
KIKAMBALA - NORTH COAST. 15MILES NORTH OF MOMBASA.
ALL FACILITIES.

TIWI - SOUTH COAST
ALL FACILITIES.

DIANI - SOUTH COAST.
THERE IS A SITE AT THE TRADE WINDS HOTEL.

YOUTH HOSTELS
-------------
THERE ARE YOUTH HOSTELS IN ALL MAJOR TOWNS.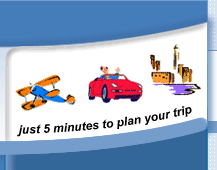 Choose destination to make hotel reservation
Kenya Top Cities:


Kenya Destination Guide: