Welcome! Here you can find useful travel information about Portugal and book a hotel. To get accommodation in your destination and to find more travel information browse the cities list.
Portugal : Useful information about country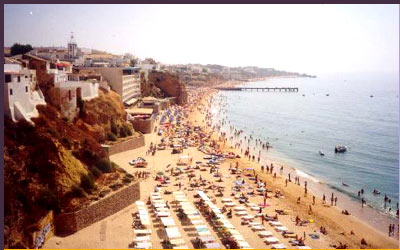 Accommodation

ALL PRICES STATED IN THE FOLLOWING INFORMATION ARE ONLY
APPROXIMATE AND ARE INCLUDED SIMPLY TO GIVE AN IDEA OF
THE TARIFFS OF DIFFERENT TYPES OF ACCOMMODATION.

HOTELS:
======
THERE IS A WIDE VARIETY AVAILABLE ALL OVER THE COUNTRY.

RATING:
THE STAR RATING IS USED 5-2.

TARIFF:
HOTELS ETC ARE FREE TO FIX THEIR PRICES WITHIN LIMITS LAID
DOWN BY THE MINISTRY OF TOURISM.

POUSADAS:
========
POUSADAS ARE COMFORTABLE STATE OWNED HOTELS WHICH
HAVE OFTEN BEEN CONVERTED FROM OLD MONASTERIES,
CASTLES AND PALACES. THEY ARE IN THREE DISTINCT CATEGORIES.
REGIONAL POUSADAS - POUSADAS IN HISTORICAL AREAS, AND
POUSADAS IN NATIONAL MONUMENTS.
ADVANCE BOOKING IS RECOMMENDED.

ESTALAGENS OF PRIVATELY RUN INNS:
================================
THESE ARE FOUND THROUGHOUT THE COUNTRY AND ARE USUALLY
OWNED AND RUN BY THE FAMILY.

PENSIONS OR PENSOES:
===================
THESE ARE MORE GENERALLY RECOGNISED AS GUEST HOUSE
TYPE OF ACCOMMODATION.

CAMPING:
=======
THERE ARE MANY CAMPSITES GENERALLY SITUATED IN COASTAL
AREAS. THE ALGAVE, COSTA VERDE, VALENCA. THE SITES OFFER
A VARIETY OF AMENITIES. CAMPING IS ONLY PERMITTED ON
OFFICIAL SITES LISTS CAN BE OBTAINED FROM TOURIST OFFICES.

YOUTH HOSTEL:
============
THERE ARE 18 THROUGHOUT THE COUNTRY.


OTHER ACCOMMODATION:
===================
APARTMENTS, MOTELS, VILLAS, SELF CATERING, BUNGALOWS AND
ACCOMMODATION IN VARIOUS MANOR AND COUNTRY HOUSES.
ON THE AZORE ISLANDS THERE ARE HOTELS ON SAO MIGUEL,
TERCEIRA, FAYAL, SANTA MARIA, PICO AND ESTALAGENS.
THERE ARE INNS ON ALL THE OTHER ISLANDS.

THERE ARE MANY HOTELS AND AUDITORIUMS WHICH OFFER FIRST
CLASS FACILITIES FOR CONGRESSES, CONFERENCES AND BUSINESS
MEETINGS.