Welcome! Here you can find useful travel information about Romania and book a hotel. To get accommodation in your destination and to find more travel information browse the cities list.

Romania : Useful information about country

Accommodation

IN THE CAPITAL BUCHAREST THERE IS ACCOMMODATION AVAILABLE
IN PRIVATE HOMES, CAMP SITES AND HOTELS FROM 5 TO 2 STARS.
ACCOMMODATION CAN BE ARRANGED BY O.N.T. CARPATI THE NATIONAL
TOURISM OFFICE. LOCATED AT:-
7 MAGHERU BLVD.
BUCHAREST
TEL: 312 25 98

IN THE CARPATHIANS THERE IS YEAR ROUND ACCOMMODATION AVAILABLE
IN HOTELS, CHALETS, PRIVATE VILLAS AND THE HOTELS SPECIALISING
IN VARIOUS CURES AND TREATMENTS.

ALONG THE BLACK SEA COAST THERE IS AN EXTENSIVE RANGE OF RESORT
ACCOMMODATION. ALSO HOTELS SPECIALISING IN TOURISM AND
TREATMENT. ROMANIA HAS A DIVERSIFIED RANGE OF NATURAL CURE FACTORS
MINERAL AND THERMAL WATERS, MOFETTES WHICH ARE CARBON DIOXIDE
EMANATIONS, MUD AND THERAPEUTIC LAKES.

YOUTH HOSTELS:
MOST HOSTELS ARE OPEN IN JULY AND AUGUST ALTHOUGH SOME
ARE OPEN YEAR-ROUND.
INFORMATION IS AVAILABLE FROM THE YOUTH HOSTEL ASSOCIATION
ROMANIA.

CAMPING:
THERE ARE AROUND 150 CAMPSITES IN ROMANIA.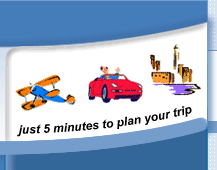 Choose destination to make hotel reservation
Romania Top Cities:


Romania Destination Guide: