Welcome! Here you can find useful travel information about Trinidad And Tobago and book a hotel. To get accommodation in your destination and to find more travel information browse the cities list.

Trinidad And Tobago : Useful information about country

Accommodation

THE MAJOR INTERNATIONAL CHAIN HOTELS ARE REPRESENTED
IN PORT OF SPAIN AND THERE ARE A NUMBER OF SMALLER
HOTELS IN THE SURROUNDING AREAS.
THERE ARE RESORT HOTELS ESPECIALLY IN TOBAGO. THE TARIFFS
VARY WIDELY.

PRIVATE HOME ACCOMMODATION IN THE FORM OF BED AND BREAKFAST
IS AVAILABLE AT REASONABLE RATES. THE TOURIST DEVELOPMENT
BOARD FOR TRINIDAD AND TOBAGO CAN SUPPLY A LIST OF HOMES.

GUEST-HOUSES:
THE TOURISM AND INDUSTRY DEVELOPMENT CORPORATION PUBLISHES
A LIST OF GUEST-HOUSES FOUND THROUGHOUT TRINIDAD & TOBAGO.

CAMPING
CAMPING IS NOT ENCOURAGED.

YOUTH HOSTELS
THESE EXIST ONLY ON TRINIDAD.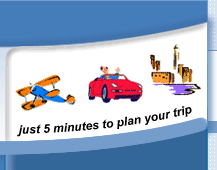 Choose destination to make hotel reservation
Trinidad And Tobago Top Cities:


Trinidad And Tobago Destination Guide: