Welcome! Here you can find useful travel information about Albania and book a hotel. To get accommodation in your destination and to find more travel information browse the cities list.

Albania : Useful information about country

Accommodation

THERE ARE DIFFERENT STANDARDS OF ACCOMODATION
OFFERED FROM STATE OWNED HOTELS.
THE ARRANGEMENTS CAN BE DONE BY CLIENT AT THE
SPOT OR VIA ALBTURIST-DEPARTMENT AT THE MINISTRY
OF TOURISM.
PRIVATE HOTELS OFFER DIFFERENT CATEGORIES OF
ACCOMODATION AND RATES.
THE ARRANGEMENT CAN BE DONE THROUGH A CONSIDERABLE
NUMBER OF PRIVATE TRAVEL AGENCIES.

HOTELS NORMALLY HAVE A PUBLIC TELEPHONE, RESTAURANT,
BAR, TAVERNA AND BALCONY.

CAMP SITES ARE ALSO AVAILABLE IN ALBANIA.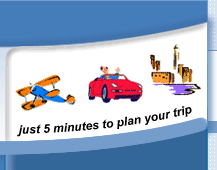 Choose destination to make hotel reservation
Albania Top Cities:


Albania Destination Guide: