Welcome! Here you can find useful travel information about Iceland and book a hotel. To get accommodation in your destination and to find more travel information browse the cities list.

Iceland : Useful information about country

Accommodation

HOTELS AND GUESTHOUSES:
THERE ARE HOTELS AND GUESTHOUSES TO SUIT ALL TASTES AND
BUDGETS, FROM THE MOST LUXURIOUS TO THE SIMPLE & SUFFICIENT.
SEVERAL TRAVEL AGENCIES & AIRLINES HAVE SPECIAL ACCOMMODATION
OFFERS WHICH CAN ONLY BE PURCHASED OUTSIDE ICELAND.
CHILDREN'S DISCOUNTS ARE ALSO WIDELY AVAILABLE. CONTACT YOUR
BOOKING OFFICE FOR FURTHER INFORMATION. PRICES FOR HOTELS
& GUESTHOUSES VARY ACCORDING TO FACILITIES & SERVICES OFFERED,
BUT PRICES FOR A SINGLE ROOM WITH SHOWER/BATH RANGE FROM
USD50-170 (BREAKFAST IS USUALLY INCLUDED) & FOR A DOUBLE ROOM
WITH SHOWER/BATH FROM USD 70-230
(BREAKFAST IS USUALLY INCLUDED)
HTTP://ICETOURIST.IS/

EDDA HOTELS:
FLUGLEIDAHOTEL TEL HF OPERATES A CHAIN OF 16
TOURIST-CLASS HOTELS AROUND THE COUNTRY.

FARMHOUSE ACCOMMODATION:
ICELANDIC FARM HOLIDAYS IS A CHAIN OF FARMS AROUND ICELAND
OFFERING TRAVELLERS ACCOMMODATION AND A VARIETY OF SERVICES.
SOME ACTIVITIES OFFERED AT FARMS ARE HORSEBACK RIDING,
FISHING, SAILING, HUNTING, GLACIER TOURS, SHEEPROUNDUP AND
SWIMMING. ACCOMMODATION IS IN FARMHOUSES, COUNTRYHOTELS,
SEPARATE HOUSES OR COTTAGES. TRAVELLERS CAN CHOOSE FROM BED &
BREAKFAST IN ROOMS WITH OR WITHOUT PRIVATE FACILITES OR
SLEEPING BAG ACCOMMODATION. COTTAGES ARE USUALLY RENTED BY THE
WEEK. FOR FURTHER INFORMATION & BOOKINGS SEE THEIR BROCHURE
"IFH TOURS" OR CONTACT THE ICELANDIC FARM HOLIDAYS
HAFNARSTRAETI1 IS-101 REYKJAVIK
TEL.: +354-562-3640, FAX: +354-562-3644.
E-MAIL:IFH@FARMHOLIDAYS.IS.
WWW.FARMHOLIDAYS.IS
PRIVATE ACCOMMODATION:
PRIVATE ACCOMODATION IS AVAILABLE IN MOST MAJOR TOWNS AND
VILLAGES MOST OFFER BED & BREAKFAST & BATH/SHOWER FACILITIES
IN A FAMILY ATMOSPHERE. CONTACT A LOCAL TOUR OPERATOR OR
TOURIST INFORMATION CENTRE.

YOUTH HOSTEL ASSOCIATION:
THERE ARE 30 YOUTH AND FAMILY HOSTELS AROUND ICELAND, OPEN
TO PEOPLE OF ALL AGES. THEY OFFER BUDGET ACCOMMODATION IN
A CLEAN & COMFORTABLE LODGING WITH OPPORTUNITY FOR SELF
-CATERING, SO TRAVELLERS CAN KEEP TRAVELLING COST AT A
MINIMUM. ALL THE HOSTELS HAVE A WELL EQUIPPED GUEST KITCHEN.
ICELANDIC YOUTH HOSTEL ASSOCIATION TRAVEL SERVICE ARRANGES
TRAVELS IN ICELAND AND PROVIDES DIFFERENT TOURS. FOR
FURTHER INFORMATION SEE THE BROCHURE "HOSTELLING IN ICELAND"
OR CONTACT THE ICELANDIC YOUTH HOSTEL ASSOCIATION,
SUNDLAUGAVEGUR 34
IS-105 REYKJAVIK, TEL.: +354-553-8110,
FAX: +354-588-9201,
E-MAIL INFO@HOSTEL.IS.
HOMEPAGE:YOUTH HOSTEL

CAMPING:
THERE ARE 125 REGISTERED CAMPSITES IN ICELAND. CAMPING
GROUNDS ARE NORMALLY OPEN FROM THE BEGINNING OF JUNE UNTIL
THE END OF AUGUST OR MIDDLE OF SEPTEMBER DEPENDING ON
ON LOCATION. THE PRICE FOR CAMPING IN THE NATIONAL PARKS,
SUPERVISED BY THE NATURE CONSERVATION AGENCY,IS USD 8 FOR
ADULTS HALF PRICE FOR PENSIONERS & FREE OF CHARGE FOR
CHILDREN UNDER 16. OTHER CAMPSITES RANGE IN PRICE FROM
USD 5-7 DEPENDING ON FACILITIES AVAILABLE. FOR A SPECIAL
BROCHURE CONTACT THE TOUR OPERATORS OR ICELANDIC TOURIST
BOARD OFFICES. PLEASE NOTE THAT CAMPING OUTSIDE DESIGNATED
CAMPSITES IS NOT ALLOWED.

NOTE: PRICES ARE SUBJECT TO CHANGE.

SUMMER HOUSES:
SUMMERHOUSES ARE LOCATED AROUND THE COUNTRY, GENERALLY
BY THE SEA OR BY A LAKE, IN THE MOUNTAINS OR NEAR OTHER
RECREATIONAL AREAS. MANY OF THESE ARE AVAILABLE YEAR ROUND.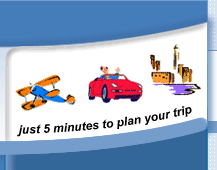 Choose destination to make hotel reservation
Iceland Top Cities:


Iceland Destination Guide: