Welcome! Here you can find useful travel information about Panama and book a hotel. To get accommodation in your destination and to find more travel information browse the cities list.

Panama : Useful information about country

Accommodation

HOTELS:
THROUGHOUT THE COUNTRY IT MIGHT BE DIFFICULT TO
FIND A MEDIUM BETWEEN THE DELUXE AND THE VERY
BASIC. IN PANAMA CITY AND COLON, MAJOR
INTERNATIONAL CHAINS ARE REPRESENTED.
FOR FURTHER INFORMATION, CONTACT INSTITUTO
PANAMENO DE TURISMO.

CAMPING:
THERE ARE NO OFFICIAL CAMPSITES, BUT IT IS
POSSIBLE TO CAMP ON SOME BEACHES AND ALSO IN
THE MOUNTAINOUS AREAS OF BOQUETE AND VOLVAN.

OTHER ACCOMODATION:
THERE ARE A SELECTION OF HOTELS AND HOSTELS ALONG
THE COAST AND THE MOUNTAIN RANGES. SMALL TOWN
ACCOMODATION HAS THE VERY BASIC.
FOR NATURE LOVERS - BIRDLOVERS WILL FIND BASIC
ACCOMODATIONS AT TREE TOPS, SUCH AS THE CHIRIQUI
HIGHLANDS IN BARU AND THE GAMBOA PIPELINE IN
PANAMA CITY. DEEPSEA AND CORAL DIVERS AT BOCAS DEL
TORO AND SAN BLAS WILL FIND STRAW HUTS WITH PALM
ROOFS, WHICH ARE MODERATELY PRICED.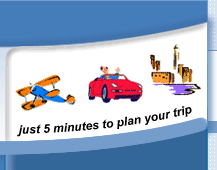 Choose destination to make hotel reservation
Panama Top Cities:


Panama Destination Guide: