Welcome! Here you can find useful travel information about Peru and book a hotel. To get accommodation in your destination and to find more travel information browse the cities list.

Peru : Useful information about country

Accommodation

ALL PRICES STATED IN THE FOLLOWING INFORMATION ARE ONLY
APPROXIMATE AND ARE INCLUDED SIMPLY TO GIVE AN IDEA OF
THE TARIFFS FOR THE DIFFERENT TYPES OF ACCOMMODATION.

HOTEL ACCOMMODATION:
HOTELS EXIST IN THE MAJOR TOURIST AREAS FOR
EXAMPLE THE CAPITAL LIMA, CUZCO, PUNO AND
MACHU PICCHU.
RATING:
HOTELS ARE RATED BY STARS, 5-1. THEY ARE ALMOST
CERTAINLY NOT COMPATABLE WITH EUROPEAN HOTELS
OF THE SAME RATING.

GUEST-HOUSES:
THROUGHOUT LIMA AND IN MOST MAJOR TOWNS, THERE
ARE MANY ECONOMICAL PENSIONES (GUEST-HOUSES)
TO BE FOUND.

YOUTH HOSTELS:
THERE ARE 34 YOUTH HOSTELS IN THE COUNTRY WITH
DORMITORY, SINGLE OR TWIN ROOMS. THEY USUALLY HAVE
A BAR OR CAFETERIA AND A KITCHEN.

LODGES:
THESE EXIST IN OR CLOSE TO THE NATIONAL PARKS.
THEY ALLOW A 2-5 NIGHT PROGRAMME OR JUNGLE PACKAGE
THIS INCLUDES TRANSPORT TO THE LODGE, MEALS AND
SIGHTSEEING TOURS OF THE JUNGLE. THEE LODGES EXIST
IN THE MANU NATIONAL PARK. THESE OFFER DIFFERING
TYPES OF ACCOMMODATION FROM PRIVATE ROOMS, BUNGALOWS
AND CABINS.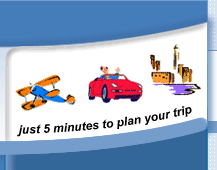 Choose destination to make hotel reservation
Peru Top Cities:


Peru Destination Guide: