Welcome! Here you can find useful travel information about Bahamas and book a hotel. To get accommodation in your destination and to find more travel information browse the cities list.

Bahamas : Useful information about country

Accommodation

NEW PROVIDENCE - THE CAPITAL ISLAND OF THE BAHAMAS.
CABLE BEACH LOCATED 4 MILES WEST OF NASSAU TOWN IS
A SELF CONTAINED RESORT AREA WITH A COMBINATION OF
OF HOTELS OF COLONIAL AND MODERN STYLE.

PARADISE ISLAND:
THIS IS A MODERN RESORT LINKED TO NASSAU BY A BRIDGE.
THERE IS A LARGE CHOICE OF HOTELS AND RESTAURANTS.

GRAND BAHAMA - THIS IS THE FOURTH LARGEST ISLAND.
FREEPORT AND LUCAYA OFFER INLAND AND BEACHFRONT HOTELS.

THE FAMILY ISLANDS
THESE ISLANDS ARE MORE REMOTE BUT OFFER RESORT FACILITIES.
ACCOMMODATION CONSISTS OF SMALLER HOTELS AND INNS.

THE BERRY ISLANDS
THIS GROUP OF ISLANDS CONSISTS OF 30 ISLANDS STRETCHING
OVER 12MILES.
THERE ARE SOME RESORT FACILITIES BUT ACCOMMODATION CONSISTS
MAINLY OF SMALLER HOTELS.

THE BIMINIS
THESE ARE A TINY GROUP OF ISLANDS 50 MILES EAST OF MIAMI.
THERE IS ACCOMMODATION CATERING SPECIALY FOR THE BIG
GAME FISHING.

SAN SALVADOR
THIS IS HISTORICALLY THE MOST IMPORTANT OF THE BAHAMAS
ISLANDS. ON THIS ISLAND CHRISTOPHER COLUMBUS MADE HIS
FIRST STOP IN HIS DISCOVERY OF THE NEW WORLD.
THERE IS ACCOMMODATION ON THE ISLAND.

GUEST-HOUSES:
LESS EXPENSIVE THAN HOTELS AND LOCATED NEAR DOWNTOWN NASSAU.

APARTMENT HOTELS:
CONSIST OF APARTMENT UNITS WITH COMPLETE KITCHEN AND MAID
SERVICE.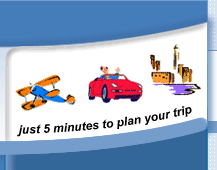 Choose destination to make hotel reservation
Bahamas Top Cities:


Bahamas Destination Guide: